We're an online company, so the only way you can submit your proof of No claim discount is to upload it.
You must upload your proof of No claim discount within 26 days of your policy start date. Unfortunately, if you fail to upload it in time we will have to cancel your policy.
Step 1 - Preparing your NCD for upload
If it is a paper document:
Simply scan it or take a photograph of it with your camera phone or digital camera.
If it is an email:
Take a screenshot of it,
Or, print it out and scan or take a photograph like if it's a paper document
In each case make sure the image is nice and clear - we need to able to check all the information outlined in our above criteria. We accept most type of image files (.jpg, .jpeg, .pdf, .gif).
Step 2 - Uploading your NCD
You have two simple options for uploading your proof of No claim discount (NCD):
Option 1 - upload your NCD through My account online
Log into your My account
Scroll down to "My policies" section
Click on the quick link for Upload NCD
Click browse then select your proof of NCD
Now read the terms and conditions and check the box if you agree
Click upload and you're done!
In the My policies section of your My account, click on the "Upload NCD" quick link as highlighted with the red boxes in the below screenshot.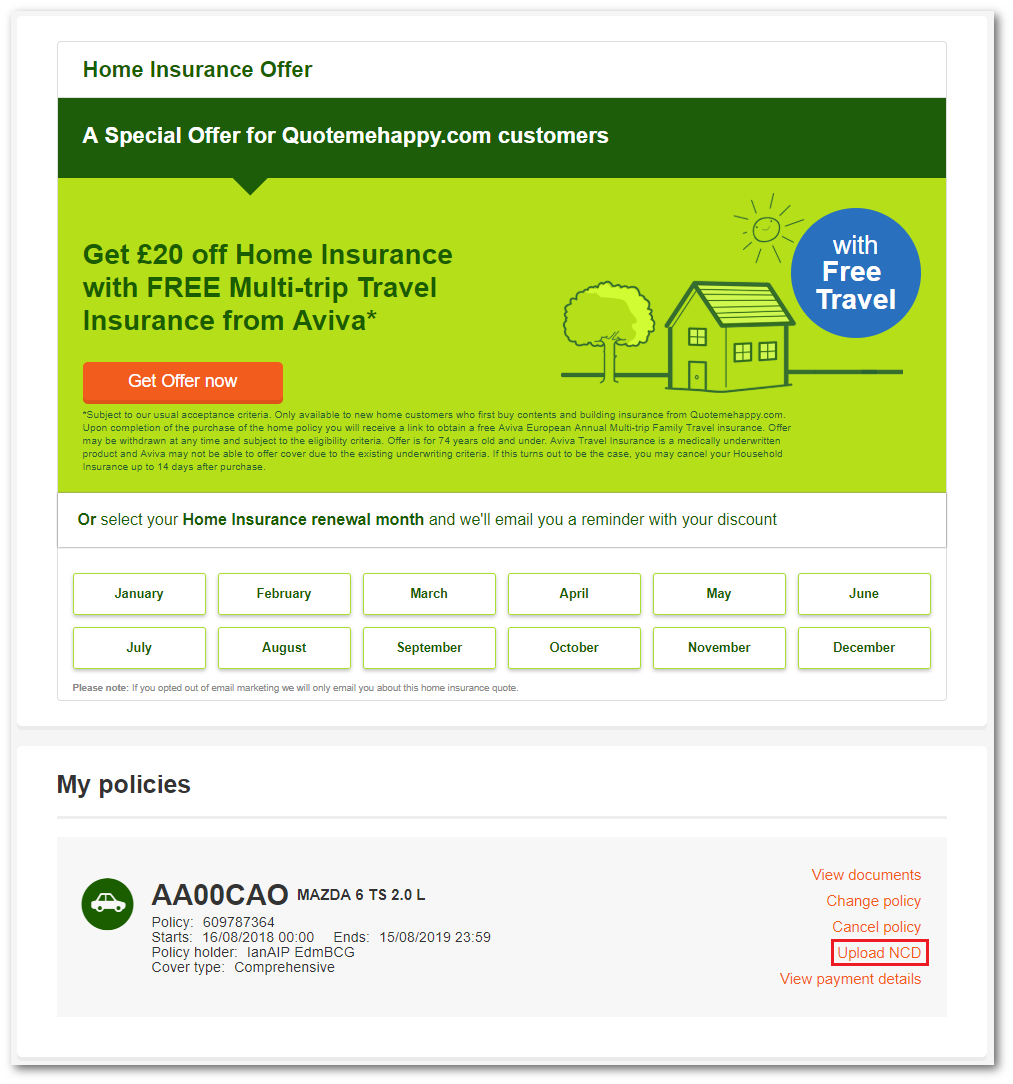 Option 2 - upload your NCD through the My account app
Download the My account app for your smartphone if you haven't already
Go to the "upload NCD" tile in the app
No take a picture of your NCD or upload your existing picture that's on your phone
Click upload and you're done!
We've included some screenshots here to show you how to upload your NCD in the app: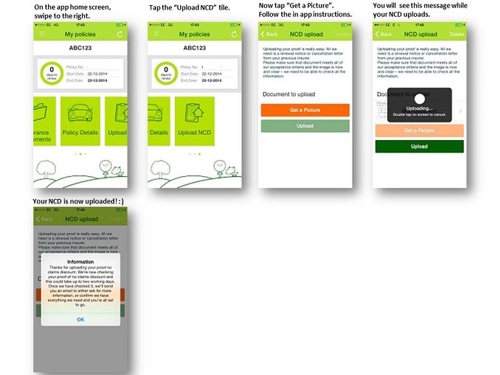 What next?
We'll send you an email within 2 working days confirming whether your proof of NCD meets our criteria or not.
If the NCD years on your proof of NCD is less than what you stated when you bought the policy we may:
Reduce the number of years NCD to match what's on your document. This will increase your premium.

We also reserve the right to charge an administration fee of up to £30 (subject to Insurance Premium Tax where applicable) for making this change on your behalf,
Or,
We will cancel your policy. This may incur a cancellation fee of £50 (plus Insurance Premium Tax where applicable), inclusive of a charge for any time on cover as per the terms stated in your policy document.