You can make the following changes:
Click "Change driver" to change the details of existing drivers on your policy e.g. to add a claim or conviction.
Click "Add driver" to add new drivers to your policy (Note: we don't offer temporary driver cover).
Click "Remove driver" to remove a driver from your policy.
Click "Change address" to update your address details, if you've moved house for example.
Note: any changes to your policy may affect your premium.
Make sure you enter the correct date for when you want your change to take effect.
An administration charge of £12 (plus Insurance Premium Tax at the appropriate rate where applicable) may apply when changes are made to your policy either yourself via My account or by our customer service team.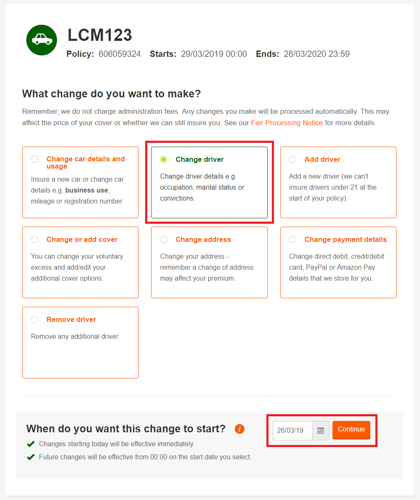 Please bear in mind that we can't cover every driver.
You must have a valid UK or EU licence.
You must be a resident of Great Britain (not including Northern Ireland, the Isle of Man or the Channel Islands).
We only insure drivers who are aged between 21-75 from the start of your policy term. If your driver has only recently turned 21, you'll only be able to add them on from your next renewal date onwards.
Your vehicle must be kept at the registered address on the policy.
You must have had no more than one 'at fault' claim and two convictions in the last 5 years.