What you'll save
£20 off the second car's premium immediately, at the point of purchase and
£20 off each policy's premium at renewal.
Who's eligible?
You have a car insurance policy and you insure a second car to Quotemehappy.com that's registered at the same address.
If you already have two car policies with us at the same address ("linked" policies) then you are entitled to the renewal discount.
You cannot get the Multicar discount if the second policy is purchased through a comparison website.
Quotemehappy Connect customers are not currently eligible for this offer
Note, to be eligible, both policies must still be insured with us at the time the renewal quote is prepared and the second car policy has been purchased at least 35 days before the first car's renewal date.
Maximum numbers of cars
Two cars is the maximum number of cars eligible for Multicar discount at any given time.
E.g., you can insure three cars with us, but only two will be given the Multicar discount.
Two separate policies
Each car will have a separate policy and you'll need a separate set of No claim discount (NCD) for each policy you buy.
Your existing renewal dates will remain the same.
You will have separate documents for each policy
Payments can be kept separate for each policy. E.g., policy 1 can pay annually and policy 2 can pay by monthly Direct Debit.
What about My account?
You can have two separate My accounts or you can have both policies on the same My account, the choice is yours.
How do I get the Multicar discount?
Existing customers, you can log into your My account and click on the Multicar discount banner to begin a Multicar discount quote.
If you're not a customer but someone in your household has a car insurance policy with us then ask them to send you the Multicar discount email they received.
Click on the link in the Multicar discount email to get your quote.
You must have full agreement from the existing policy holder to use the Multicar discount.
In your My account
You can click the link at the bottom of your My account, highlighted by the red box in the below screenshot: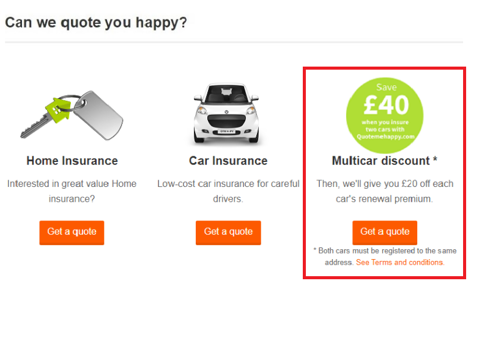 In the Multicar Discount email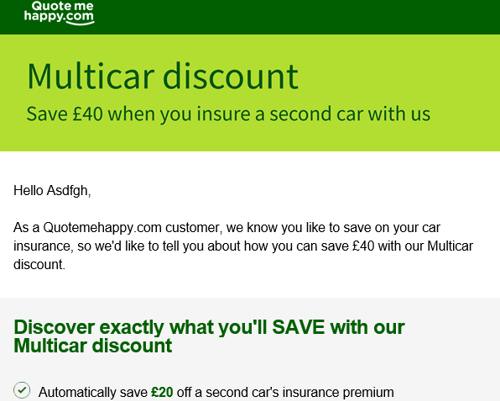 Click here to get a Multicar discount quote now.
No claim discount for Multicar discount
Your No claim discount (NCD) information will remain separate for each car policy.
You cannot use your existing car policy's NCD for the new car policy.
If a claim is made on one policy, this will not affect the other policy's NCD.
Please click here for the full Multicar Discount terms and conditions.