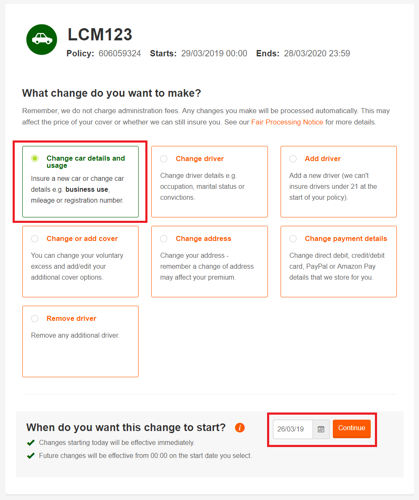 If you have purchased a brand new car, and this isn't recognised automatically by our system, just scroll down the page and you'll be able to enter the vehicle details manually.
If you're not able to manually enter the new details, please allow up to five working days for our system to update with the new information from the DVLA. You should then be able to change your car over.
An administration charge of £12 (plus Insurance Premium Tax at the appropriate rate where applicable) may apply when changes are made to your policy either yourself via My account or by our customer service team.
Unfortunately we can't cover the following:
Vehicles over 17 years old.
Vehicles worth £70k or more.
Significant modifications (other than optional extras fitted by manufacturer or dealer as new and declared in the car value, and those solely made in respect of a disability).