We will send your renewal invitation email to you (and your renewal will be made available through My account) 28 days before your renewal date.
Please check that the information on your renewal is complete and accurate.
If you have not opted out of automatic renewal, your policy will be automatically renewed (unless you have cancelled the continuous card payment authority or we're unable to offer renewal using the same payment method).
You have a statutory right to cancel your policy within 14 days from renewal of the policy or the day on which you receive your policy renewal documentation (whichever is the latter).
To exercise your right to cancel click here to view the FAQ on cancelling your policy.
For further details, please see Automatic renewal of your Policy in the Important Information section of your Policy Documents.
If you're thinking of not renewing with us, make sure you can get the alternative cover you need before your policy ends.
Automatic renewal customers
If your policy is set to automatic renewal, you don't need to do anything we'll simply renew your policy automatically for the next policy year.
Non-automatic renewal customers
You can renew your policy 28 days before your renewal date. There are two simple ways that you can renew your policy:
1. Renewal email
We'll send you renewal invitation via email 28 days before your renewal date.
Your policy details and your new renewal premium will be displayed in this email.
If you want to renew, click the "Renew online now" link in the email
On the next page you're asked to log into My account
Once in, you can click "Begin renewal" or "Renew with changes" if you wish to make some changes first.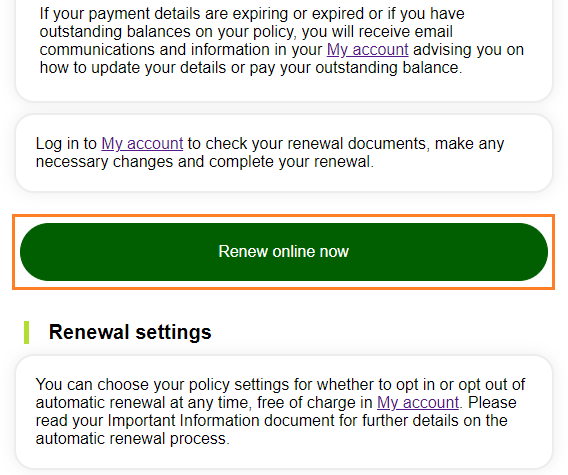 2. My account
You can renew your policy at any time within the 28 day renewal period by logging into your My account and clicking on Begin renewal. To make changes to your policy before you renew, add another driver or change your car, click Renew with changes. The steps are:
Log into your My account.
On the main page you will see your renewal.
You can click Begin renewal or Renew with changes if you wish to make some changes first.